Roseland Cottage
The South Parlor
No Smoking No Cards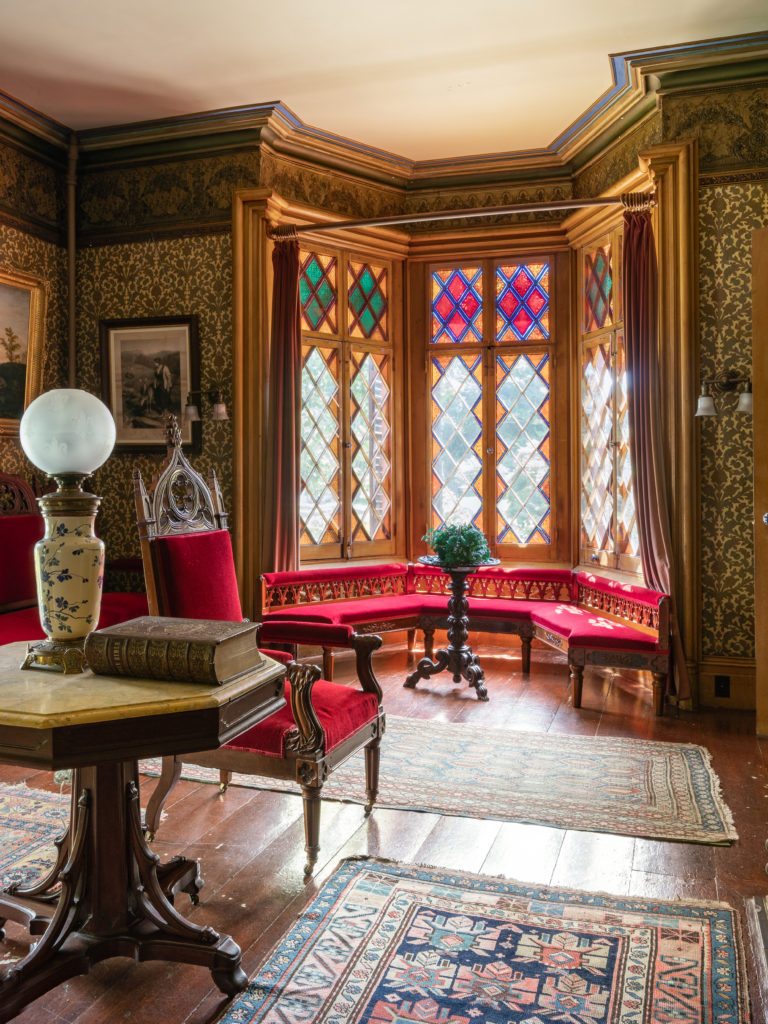 The parlors at Roseland Cottage were used for formal entertainments and informal family gatherings that included cousin parties, dinner parties, and tea parties. The family played parlor games like charades, entertained each other with dramatic tableaus, and read books and poetry together. Clarence tells of a dinner party where several members of the family entertained guests on the piano, violin, cello, and flute. One thing they never did, however, was play cards. Nor did they have after dinner brandies or smoke cigars while Henry Bowen was alive. This note, written by him in 1889 and left in the parlor, demonstrates his dedication to temperance, prohibiting smoking and card playing on what he called his "premises."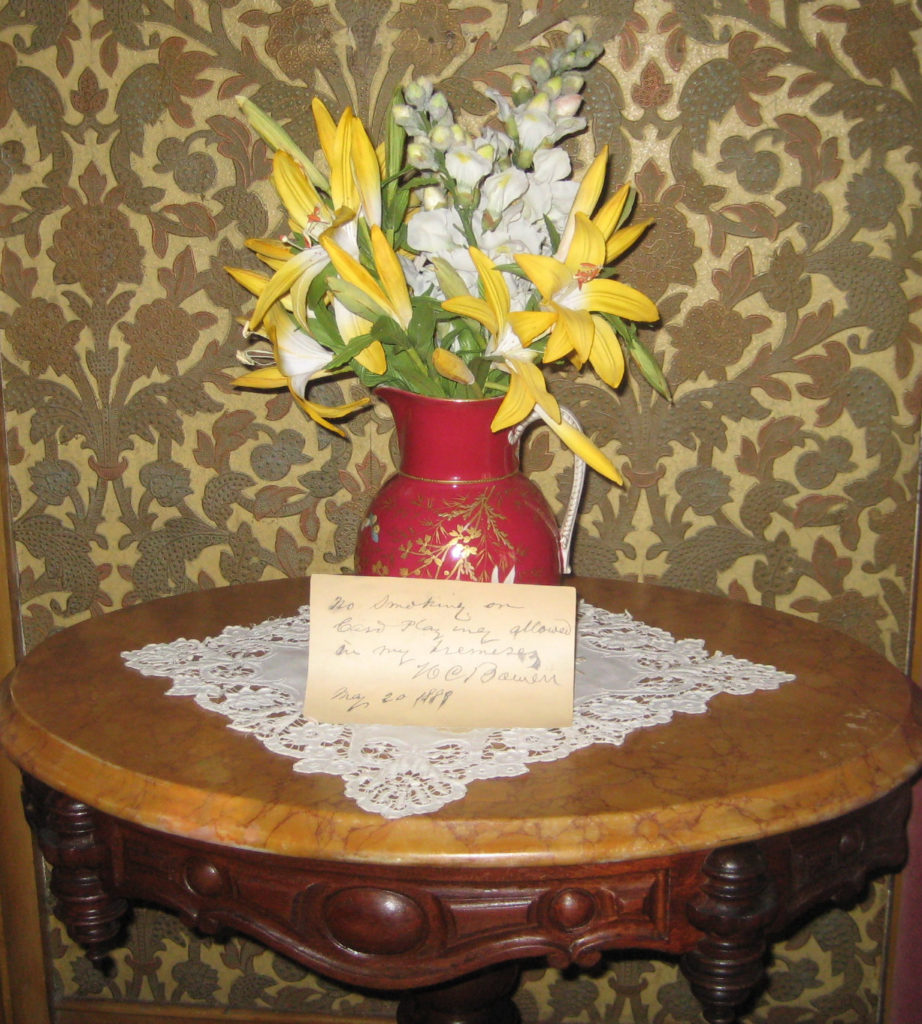 The parlors, like the other public rooms, reflect the redecoration of the cottage in the 1880s. The Lincrusta wall covering, the stained glass, the medallions in the ceiling, new tiles around the fireplace and other elements that reflected Aesthetic Movement design were added. But many Gothic details were kept.
Gothic Elements, South Parlor
Parlor Ceiling Medallion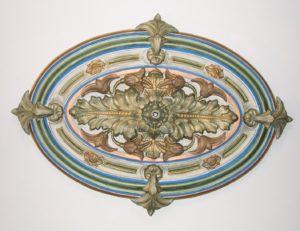 A chandelier was suspended from a hook in the center of this plaster medallion on the ceiling of the south parlor. Woodstock and Roseland Cottage never had access to gas, so the lighting was probably oil, most likely kerosene. The fixture in all likelihood was removed when electric lights were installed, and other modes of lighting seemed old-fashioned. Discoveries during preservation work on the parlor ceilings in the 1980s suggested that this medallion replaced one in the Gothic Revival style. The north parlor has an identical medallion.
Aesthetic Style
Click on the image to take a closer look
Table Lamp
Japan and United States, porcelain, glass, bronze, c. 1890
This Japanese vase may well have been fitted out as a lamp soon after it was produced. The vase itself, with its asymmetric decoration, gilt overglaze, and flying bird motif is very much in the Aesthetic style, while the base, more rectilinear and geometric, is a subset of the style known as Eastlake, after its principal proponent, Charles Eastlake.  The fleurs-de-lis on the globe add a third element in a mash up of styles that is typical of the period.
Corner Chair
Click on the image to take a closer look
Corner Chair
Probably New York, 1880-1890
The fan is a ubiquitous motif in Aesthetic Movement design. Decorative fans were placed on mantels, walls, and shelves, while images of fans ornamented prints and ceramics. With its back in the shape of a fan as well as its Asian-inspired panels below the arms, this corner chair is a wonderful example of the style.