Roseland Cottage
Gothic Revival
Beyond the Bounds of Rationality
Nestled in the rolling hills of northeastern Connecticut, Woodstock is a quintessential New England village, with a white church and classical-style houses overlooking a tree-shaded common. In the midst of this serene setting, Roseland Cottage, with its bold color scheme and pinnacled gables stands in marked contrast to its sedate neighbors. Its Gothic Revival style, fashionable and forward-looking in 1846, expresses the confidence and individualism of Victorian America at mid-century.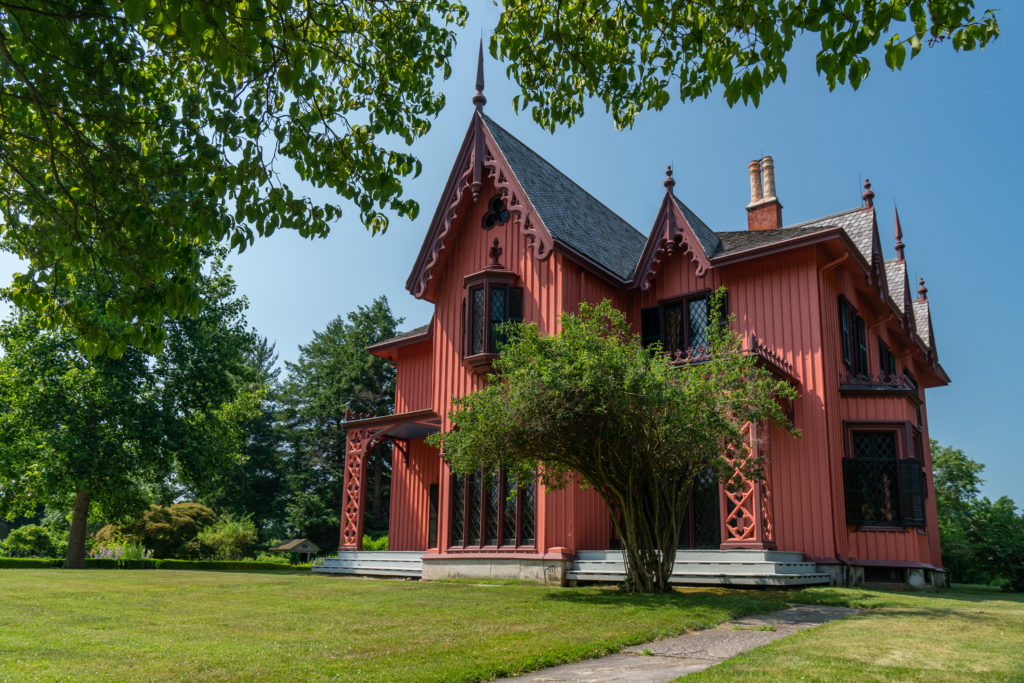 Gothic Revival, according to nineteenth-century tastemaker Andrew Jackson Downing, was the ideal architectural  style for "men of imagination—men whose ambition and energy will give them no peace within the mere bounds of rationality." According to Downing, the "unsymmetrical and capricious forms" were a perfect match for men of "originality, boldness, energy, and variety of character." Bowen's choice of the newly fashionable style suggests he believed himself to be all those things. A house such as Roseland Cottage was a conscious effort to convey status and, especially with the Gothic Revival, the morality of the people who lived inside. Roseland Cottage made a powerful statement: Henry Bowen had returned to Woodstock a moral, successful, fashionable, and thoroughly modern man.
Gothic Glossary
What Makes it Gothic?
Gothic architecture is defined by the great cathedrals built during the medieval period in Europe. The terms that describe the architectural features of medieval Gothic are also used to describe those elements that the Gothic Revival imitated. Roseland Cottage has all the features of a high style Gothic Revival building.
Pointed arches: a defining characteristic of Gothic architecture. Able to support more weight than earlier types of arches, they allowed buildings to soar. It was an important decorative feature of the Gothic Revival, which was originally called "the pointed style."
Parapet: a vertical barrier at the edge of a roof, terrace, or other raised area. Ours are made of quatrefoils (and we call them crockets).
Oriel Window: simply put, a bay window on an upper floor.
Finial: an ornament often at the peak of a gable. Ours on the main front gable is six feet tall.
Quatrefoil: an ornament with four lobes or leaves—in a medieval church, a representation of the four evangelists. Our porches have quatrefoils supporting their roofs.
Trefoil: an ornament with three lobes or leaves—in a medieval church, a representation of the trinity.
Chimney Pots: Highly ornamental additions to chimneys, often grouped together.
Barge Board: a ornamental board covering the gable end of a roof. Ours have trefoils carved at the ends of the projections.
Hood Mold: A molding that projects above a door, window, or archway to protect from rain. It can also be called a drip mold.
Board and Batten: wooden siding with wide, vertically oriented boards separated by narrower strips of wood called battens. It gives buildings a vertical orientation.
Click on the hot spots
to learn more
1870s Addition
Click on the image to take a closer look
1870s Addition
In the 1870s, the Bowens added to the servants' ell. The extension included additional servants' quarters on the second floor, and a laundry washroom on the first, moving that task out of the cellar. The photo shows the addition on the far left—click through for a better view. The addition continued the board and batten siding—so important to the Gothic Revival style—but did not have diamond-paned casement windows or the original building's steeply pitched roof, though it did have a parapet along the flat roof line. Also visible in this picture is the metal roof that was added in 1887, perhaps in response to a chimney fire which, according to Henry's and Lucy's son Clarence, could have had disastrous consequences had the roof not been covered in snow.
Roseland Cottage Today
At some point between 1887 and 1901, the porte cochere was added, giving the main entrance its distinctive look.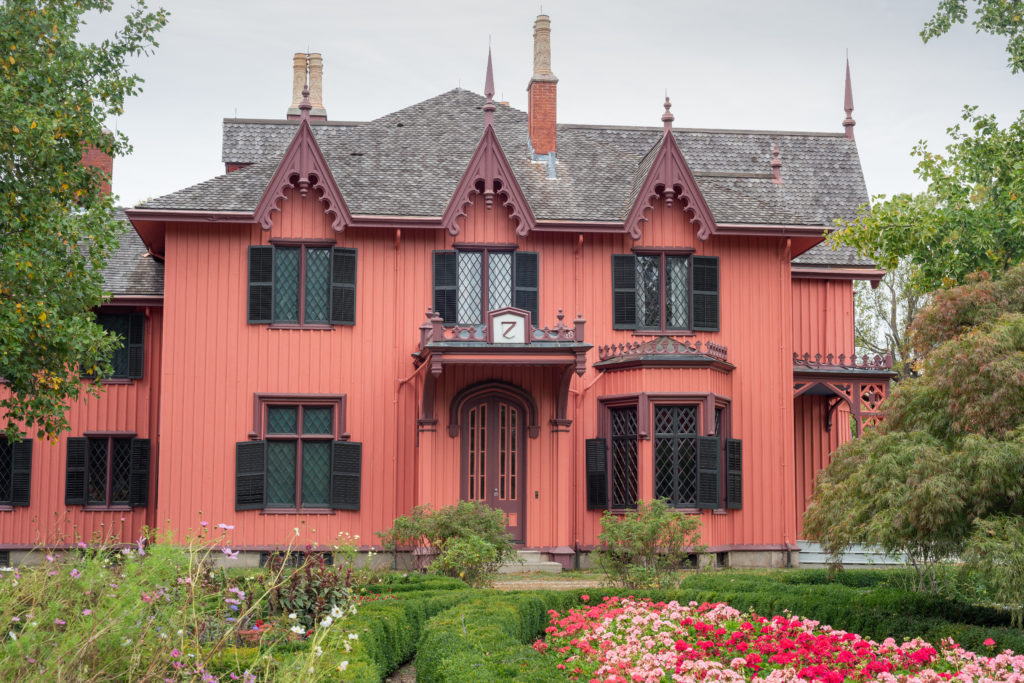 Roseland from Above
A Bird's-eye View