Roseland Cottage
Preserving a Landmark
Restoring Roseland Cottage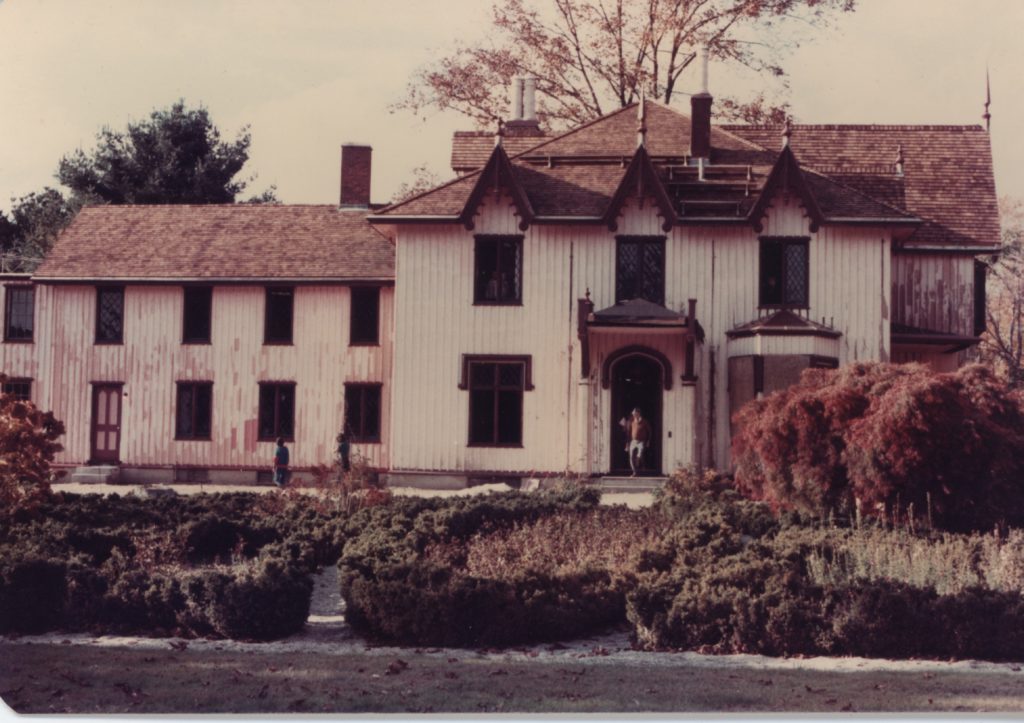 Historic New England acquired Roseland Cottage in 1970 when Constance Holt, granddaughter of Henry and Lucy and the last family member to live in the house, died. The house was purchased from the family, the contents were donated. Roseland was in serious need of preservation. The original roof drainage system was designed with interior downspouts and pipes which funneled rain water from the roof to the basement cisterns. While the system was sophisticated for its time, oxidation, corrosion, and age left it ineffective. Though Miss Holt made few changes in the house, took pride in it, and maintained its general appearance, over the decades water caused not only obvious surface damage, but seriously undermined the foundation, causing significant structural damage.
Drain Installation
The most immediate problems at Roseland Cottage were caused by the intrusion of water. In 1980, the Roseland Cottage Restoration Project installed gutters and a new drainage system, repaired much of the damage across the front of the house, conserved ornamental woodwork, installed a new roof, and painted the house. Substandard foundations had caused the piazzas, bay windows and conservatory to settle faster than the rest of the house, making them lean outward. These opposing forces were literally tearing the house apart. But the most pressing problem was the porte cochere.
North Bay Window
Jacked Up
Substandard foundations exacerbated damage caused by intruding ground water forcing the bays and other parts of the house to settle faster and lean outward. It was necessary to bring these elements back to level. Here, the north bay window has had its foundation stones removed and has been jacked back to level.
A masonry block foundation was laid on the concrete footing, the brick work restored, and the granite facing slabs replaced. This is the south bay, receiving the same treatment as the north.