Roseland Cottage
The Bowens in New York
The Rest of the Year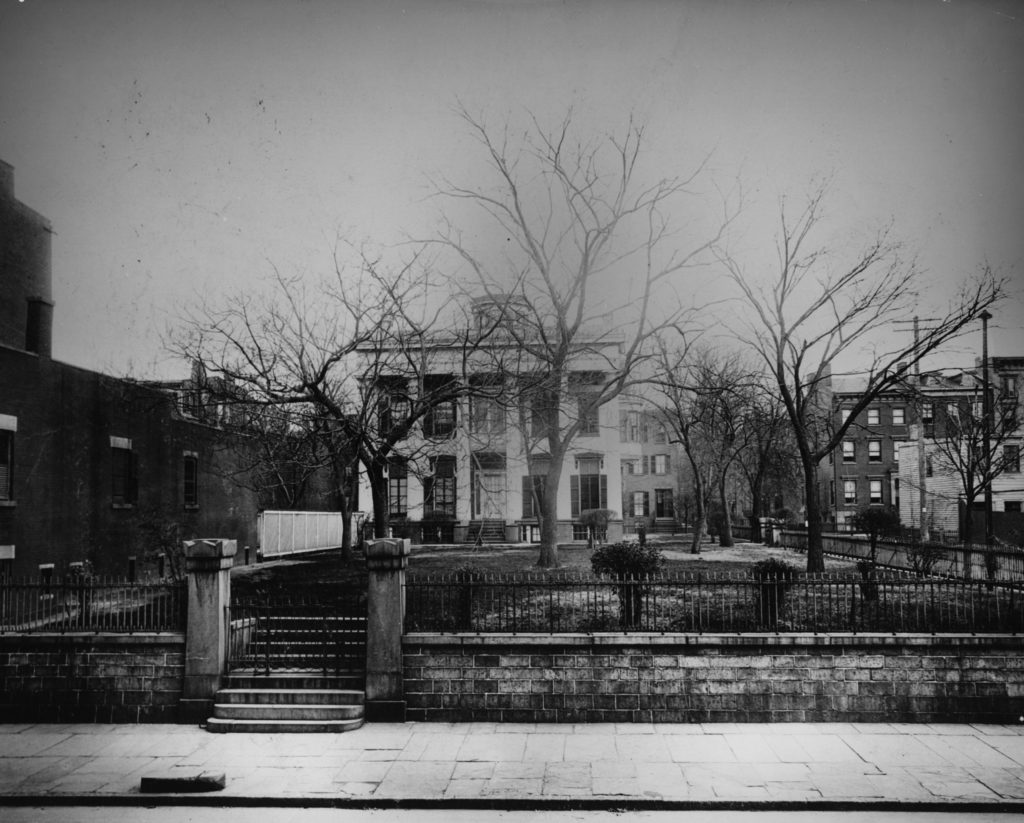 The Bowen family spent several months each year in Woodstock at their summer home, Roseland Cottage. The rest of the year, they lived in Brooklyn, New York, and Henry traveled daily to Manhattan, where his newspaper and silk/dry goods businesses were located. Despite Henry's Woodstock roots, this was a Brooklyn family, happy to spend summers in the cooler, more relaxed country atmosphere, but their center of gravity was New York. Furniture for Roseland was made and shipped from New York. They were founding and faithful members of first Pilgrim and then Plymouth Churches in Brooklyn, for which they provided generous financial support. Lucy gave birth to all her children in Brooklyn. And the clubs and entertainments enjoyed by family members were centered in New York. Henry's involvement in the planning of Roseland Cottage, his interest in ecclesiastical architecture, and his belief in taking a responsible role in making towns attractive leave little doubt that his homes and offices in Manhattan and Brooklyn would be stylish buildings.
Brooklyn Ties
A Family Favorite
This lantern hangs in the hall of Roseland Cottage, and is a reminder of the family's attachment to Brooklyn. It commemorates the opening of the Brooklyn Bridge in 1883. The Bowens, who watched the building of the bridge from their Brooklyn home, took part in the parade across the bridge on opening day along with thousands of others. The lamp was made to be fueled by gas, but Woodstock and Roseland Cottage never had access to gas, so it was adapted by the family, probably to oil, and then adapted again to electricity when that technology reached Woodstock Hill.
Hicks Street
Gothic Revival Town House
Willow Street
An Elegant Home
Corner of Willow And Clark
Brooklyn Heights was an enclave for many former New Englanders. Once Bowen & McNamee was solidly established, in 1854 the Bowens left the Hicks Street row house for 90 Willow Street. They purchased an impressive modified Greek Revival mansion thought to be one of the most elegant in Brooklyn. Henry and Lucy filled it with high style furniture and had elaborate frescoes and other decorations installed. The house, formerly owned by banker and financier David Leavitt, was built in 1844. It occupied half a city block and was known for its colossal Greek Corinthian portico which looked out over the harbor. In 1904, after the death of Ellen Holt, Henry's second wife, the house was sold, and razed to make way for a hotel which was never built. This view of the imposing columns is actually the back of the house, taken from Columbia Street.
Bowen & McNamee, Silk Importers
Manhattan
The businesses that sustained the Bowen family were located in Manhattan, and Henry took the ferry to Manhattan on a regular basis. His primary business for many years was a dry goods and silk importation business established in 1839, specializing "in silks, ribbons, and the best class of fancy dry goods, and Yankee notions," which he owned with another former Tappan clerk, Theodore McNamee. Bowen & McNamee was an immediate success, which came as no surprise to many. One commentator remarked, "No matter what a venture seems to promise in other hands, it is almost always a mine of wealth when Henry Bowen works it." Bowen and McNamee built one of the first "marble palace" stores in Manhattan. Before that, they opened shop at the corner of Beaver and Williams.